Picture it: Toronto's O'Keefe Centre (now the Sony Centre), early March 1988. A seven year-old girl takes a seat near the front of the theatre's balcony section, trying to figure out why she had to get all dressed up to sit for hours of this Shakespeare stuff instead of being allowed to stay at home and play. But then that little girl gets a glimpse of the night's playbill. Wait…is that Captain Von Trapp on the cover? He's in this thing? This night is looking up, the girl thought.
By intermission, that little girl was hooked. The first act had been filled with murder, witchcraft, ghosts and, as previously mentioned, Captain Von Trapp as a certain Scottish warlord. By the time the play had come to an end and Macduff had wrought his revenge, she was freely (and somewhat incorrectly) quoting lines left and right and virtually frothing at the mouth for more. More Macbeth, more Shakespeare, more theatre.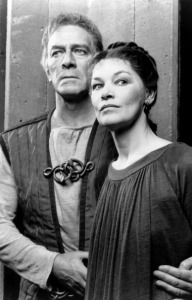 Unsurprisingly, that obsessive little girl was me. And that particular evening, yours truly was reborn as a true theatre nerd. So thank you, Christopher Plummer, for your wonderful Macbeth and thank you, Glenda Jackson, for your equally glorious Lady M. You both created a monster without even knowing.
For theatre fans of any age, Broadway is often considered THE Mecca. But for others, London is in a league of its own. I fall into the latter fan category. Don't get me wrong: Broadway is amazing…but London is, well, LONDON. There is something in the air that can only be described, by those of us with a more sentimental nature, as magical. The history of the theatres here is truly unique and the list of familiar actors who have trod the boards from the West End to the Southbank is mind-blowingly long and prestigious. From the light-hearted Coward comedies of the '30s to Rattigan's genteel '40s dramas to Osbourne and Pinter's angry young men of the '50s and '60s to more modern masterpieces from Barnes, Churchill, Bennett, Marber and Stoppard, to plays from some guys named Shakespeare and Shaw, there's no shortage of home-grown pieces to perform. Mix all of those pieces together, add in some Ancient Greek drama and quality plays from across the pond, and there's practically a never-ending supply of material for the many venues of the city.
My first visit to London in 1990 took me to two big Andrew Lloyd Webber musical productions – as is the norm for many first-time tourists – but I made up for that with a stop at the RSC in Stratford for their King Lear, starring John Wood, Ralph Fiennes and Alex Kingston. On my next visit twelve years later, I swapped that play-to-musical ratio and caught two of Shakespeare's best – A Midsummer Night's Dream and Twelfth Night – at The Globe, along with We Will Rock You at the Dominion Theatre on Tottenham Court Road.
By the time I returned a decade later, my love of big, expensive musicals had severely dwindled so this trip was designated a 'play only' zone – Hay Fever at the Noel Coward starring Lindsay Duncan, Jeremy Northam, Olivia Colman and Freddie Fox, then a stop at the Gielgud for the Olivier Award-winning Ladykillers, starring Peter Capaldi and James Fleet. Later that same year, I was back again and caught Josie Rourke's amazing all-female production of Julius Caesar at the Donmar with Harriet Walter, and the infamous production of Uncle Vanya at the Vaudeville. A mere three months later and I was back again, turning up like a bad penny ostensibly for a conference but let's be real, I was far more excited to see Helen Mirren in The Audience and Judi Dench and Ben Whishaw in Peter and Alice. Though not all of the plays were perfect, they were all memorable in their way and some (I'm looking at you, Helen) were unforgettable.
But independent of those productions, something else happened which fanned the flames of my love of theatre and turned it into a raging fire of obsession. But, you know, in a good way. What happened? NT Live happened. The National Theatre found a way to bring their amazing productions to people around the world by streaming the majority of their content into cinemas. It seems like a simple idea but the actual logistics of it all are nightmarish in their scope. I was working for Canada's largest film exhibitor at the time and consequently was somewhat in on the ground floor, helping to promote this phenomenal new series to movie goers across the country. Because of my busy work schedule, I wasn't able to attend the first few broadcasts but made myself get to A Disappearing Number (a phenomenal new play) then to both versions of Frankenstein encores (seeing Benedict Cumberbatch and Jonny Lee Miller in both roles), to The Audience (again), to Kenneth Branagh's Macbeth and to Coriolanus with Tom Hiddleston. All were fantastic productions that truly captured the magic of the live theatre performances so well that I can admit to forgetting I wasn't actually seated in a UK theatre watching the action unfold in front of me.
But more than any other production or any other play, the broadcast from the Olivier celebrating the National Theatre's 50th anniversary captured — from its opening to its close — exactly what it is that draws me to the theatre. Amazing, legendary stage actors performing some of the greatest material ever written. Some performing in roles they'd played before, some acting in parts for the very first time. With little more than a day of rehearsals behind them, they all took to the stage with one common goal: celebrating the theatre. I'll admit, I cried throughout.
Seeing Joan Plowright, Laurence Olivier's 85 year old widow, perform the same soliloquy from Joan of Arc that she performed during the National Theatre's opening season in 1963 set me off the first time, then Andrew Scott's phenomenal take on Angels in America did it again, as did Judi Dench's Sondheim rendition and Simon Russell Beale's deceptively simple Hamlet soliloquy but the final straw that broke this theatre-goer was watching the entire company take to the stage for the finale. I was a sobbing, cheering mess. On that stage were some of the greatest actors I'll ever have the privilege to see perform, the like of whom we're not likely to see again. You may think I'm exaggerating, given I am prone to the occasional bout of hyperbole, but here are just some of those who congregated on that stage in November 2013: Simon Russell Beale, Alan Bennett, Dominic Cooper, Benedict Cumberbatch, Frances de la Tour, Judi Dench, Christopher Eccleston, Ralph Fiennes, Michael Gambon, Derek Jacobi, Rory Kinnear, Adrian Lester, Helen Mirren, Andrew Scott, Maggie Smith, Tim Piggott-Smith and Penelope Wilton. See? SEE? The entire production is available to buy now (and yes, I own it) but to get just a taste of what the night gave us, you can watch Judi Dench, Benedict Cumberbatch and Andrew Scott perform below.
Which brings us up-to-date…almost.
It brings us to this past December, when a visit to my home-away-from-home at Christmas saw three plays on the agenda. Sadly, I was struck down by one of the worst colds I've ever experienced so I only managed to haul myself to one of the productions: Electra at The Old Vic, starring (Queen of my heart) Kristin Scott Thomas. But that visit planted a seed in my brain and grew into a bold, new idea – to move to said city for as long as I could hack it…and maybe, if the Gods were smiling, to find that dream job in the arts.
The bonus of picking up and moving across the pond at the end of February? To quote The Habit of Art: Plays, plays, PLAYS. And what a year to pick! 2015 has been an impressive year on the British stage and I've been damn lucky to catch even a few of the productions I have. James McAvoy's turn in The Ruling Class is one of the best things I've ever seen and that performance will stick with me, possibly forever. And that was just the first thing I saw!
I've been keeping track, a tally of sorts, to remind myself that even if I can't stay here forever, just look at what I've been able to see in the short time I was here. It's almost turned into a quest to see as many plays as I possibly can (or can afford). Don't believe me? Take a look for yourself.
| TITLE | PLAYWRIGHT | DIRECTOR | ACTORS | THEATRE |
| --- | --- | --- | --- | --- |
| Electra | Sophocles/Frank McGuinness | Ian Rickson | Kristin Scott Thomas | The Old Vic |
| The Ruling Class | Peter Barnes | Jamie Lloyd | James McAvoy | Trafalgar Studios |
| Man and Superman | George Bernard Shaw | Simon Godwin | Ralph Fiennes | Lyttelton, National Theatre |
| A View from the Bridge | Arthur Miller | Ivo Van Howe | Mark Strong | Wyndham's |
| The Hard Problem | Tom Stoppard | Nicholas Hynter | Olivia Vindall | Dorfman, National Theatre |
| A Light Shining in Buckinghamshire | Carol Churchill | Lyndsey Turner | 19 core cast, 60 overall | Lyttelton, National Theatre |
| Everyman* | Carol Ann Duffy | Rufus Norris | Chiwetel Ejiofor | Olivier, National Theatre |
| Gypsy | Jules Styne/Stephen Sondheim | Jonathan Kent | Imelda Staunton | Savoy Theatre |
| High Society | Cole Porter | Maria Friedman | Kate Fleetwood | The Old Vic |
| The Vote | James Graham | Josie Rourke | Judi Dench | Donmar Warehouse |
| The Beaux' Strategem | George Farquhar | Simon Godwin | Susannah Fielding | Olivier, National Theatre |
| The Play That Goes Wrong | Henry Lewis, Jonathan Sayer & Henry Shields | Mark Bell | Mischief Theatre Players | Duchess Theatre |
| American Buffalo | David Mamet | Daniel Evans | Damian Lewis | Wyndham's |
| Temple | Steve Waters | Howard Davies | Simon Russell Beale | Donmar Warehouse |
| Red Lion | Patrick Marber | Ian Rickson | Peter Wight | Dorfman, National Theatre |
| Rules for Living | Sam Holcroft | Marianne Elliott | Stephen Mangan | Dorfman, National Theatre |
| Constellations | Nick Payne | Michael Longhurst | Louise Brealey, Joe Armstrong | Royal Court at the Trafalgar Studios |
| Three Days in the Country | Ivan Turgenev/Patrick Marber | Patrick Marber | Mark Gatiss | Lyttelton, National Theatre |
| The Winter's Tale | William Shakespeare | Kenneth Branagh | Judi Dench | The Garrick Theatre |
| Hamlet | William Shakespeare | Lyndsey Turner | Benedict Cumberbatch | Barbican |
| The Dramatic Need Children's Monologues – 5th Anniversary | Various | Lyndsey Turner | Benedict Cumberbatch, Chiwetel Ejiofor, James McAvoy, Nicole Kidman | Royal Court |
*Seen twice. (Updated May 27)
So that's what I've been up to. What about you?