Now that our accommodations had been properly Christmas-ified, it was time to head out and get our London on. The first stop? My must-visit spot of each and every visit, the National Portrait Gallery. I love every corner of this place but can't really explain why…but coming here feels a bit like coming to visit old friends. And considering the age of some of the paintings, "old" is somewhat of an understatement.
As always, I shot right for the top floor where they keep their Tudor portrait collection. They'd changed the layout since I was last here in 2013 so it took awhile to find my favourite painting, which had naturally been moved to the very last room of the exhibit. I couldn't complain though as the whole area was revamped as part of their current exhibition: The Real Tudors: Kings and Queens Rediscovered, and last time I was here that particular painting had already taken out for cleaning/restoration in prep for the spotlight. So after I'd said hello, I moved on to the Stuarts and gave a nod to Bonnie Prince Charlie, then on to Mary Shelley, Byron, Keats, Samuel Johnson and his biographer/friend, James Boswell. If the latter's surname seems familiar, it's because it became better known as a way to describe a constant companion/observer/chronicler. So much so that a certain Arthur Conan Doyle had his most famous character, Sherlock Holmes, show a rare moment of pure affection for his Dr. Watson in A Scandal in Bohemia: "I am lost without my Boswell." And yes, I bored my mother with that long explanation, which may account for the fact that she declared a need for food and rest before we'd gone much further. But before seeking out sustenance, I made a quick stop at mad King George and the Prince Regent. No matter how many times I stop at the George IV portrait, I'm always disappointed it's not Hugh Laurie. Blackadder has really improved upon that particular historical figure.
Then it was time for a break…but why not a break with a view? So we trundled up to the Gallery's top level for some lunch at the Portrait Restaurant. The vista is one of the best in London and is a great place to take in the surrounding area…while stuffing your face. My mom hadn't been there before and was so taken with it, she was considering just moving in. Though a nutty suggestion, it's hard to argue with a view like this: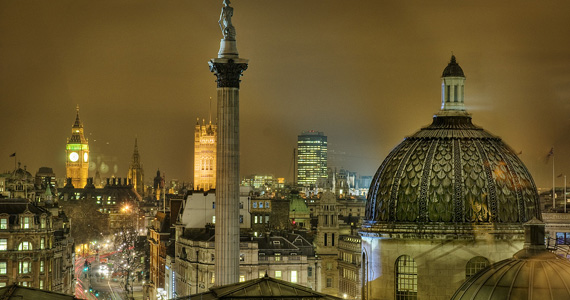 After partaking in a pre-fixe combo of spiced butternut squash soup followed by potato gnocchi with savoy cabbage, chestnuts, crispy sage and parmesan cream, we headed back downstairs to the "moderns" for a gander at Kate Middleton, Maggie Smith, Judi Dench, the current Snowden display (with a FABULOUS Bowie photo), and an overlong visit to the gift shop.
Then it was out for a wander through Trafalgar Square – both just to enjoy the atmosphere and to search out another Paddington Bear. The square was filled with pigeons (naturally), performing Santas (sure) and a giant Blue Cock installation (what?)
But first, the Paddington. As we strolled toward the far side of the impressive National Gallery, a particularly exuberant skateboarder lost control of his board, which naturally slammed into my heel. Those things are heavier than they look. Also? OUCH. I limped the rest of the way to Bear statue, which was so adorable it made it all worth it.
This one is a tribute to London by Mr. Mayor himself, Boris Johnson.
A hop, skip and a jump away from said bear is Canada House, which is sadly in the middle of a construction project…but in case you weren't sure where it was, our fine country has plastered a giant sign on it so everyone knows who the building actually belongs to. And no visit to Trafalgar is complete without a circuit around the whole square:
Then it was time to say goodbye to the landmark area and head off for my first bit of afternoon tea at the Corinthia with one of my lovely ex-pat friends. The hotel was as gorgeous as ever and the tea completely delish. I highly recommend and if I was made of money, I would find a way to live there…possibly in the lobby.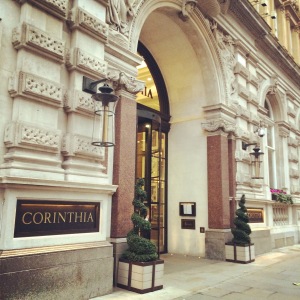 And after tea? A birthday dinner with yet another ex-pat friend (his birthday, not mine) at 10 Cases on Endell Street. A fantastic place with fantastic food and even better wine. Another stop that gets two thumbs up.
One thing that became obvious to me both on the way to dinner and back home? Christmas parties are HUGE here, there's clearly a lot of pre-drinking involved and there are way more people dressed as Santa and his elves then is strictly healthy. Also, if you haven't seen a group of City guys dressed up as Santa, drunk and leaning against a corner pub, you haven't lived.
And with that, I leave you.
Day Three: Kensington, here we come!