…not, strictly speaking, me. But it's all fine.
I've been in London now for just over a week and I'm feeling as at home as I've ever felt. It's the natural fit I'd assumed it would be – at least it is so far. The weather has been rainy but hovering around the 10 degree mark, so absolutely no complaints from this ex-pat girl.
The week kicked off (very, very early in the morning) with watching Hollywood's biggest night…the 87th annual Academy Awards, which – due to the time difference – kicks off after midnight in jolly old and ended at around 4 am. But with wine, food and an equally as interested flatmate to keep me company, I made it through. It was all very predictable but worth watching for Graham Moore's rousing speech about difference and Patricia Arquette's equality mention. Not only do I whole-heartedly agree with Miss Patty, it gave us the best moment of the night (which in turn birthed my new favourite GIF):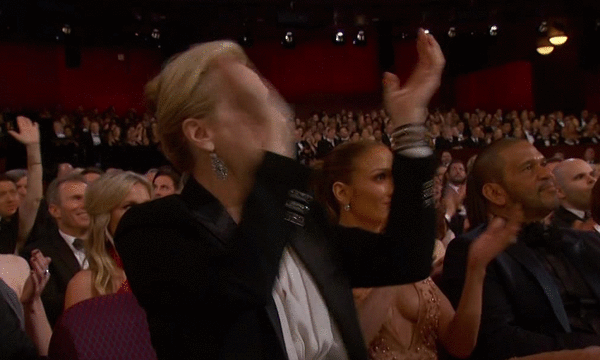 As much fun as the Oscars always are, they threw a giant wrench into my big "get over jet-lag as soon as possible" plan. So the resulting week involved many naps, local walks around Hampstead (let's not get too active all of a sudden), and prep for my Thursday job interview. I also had time to figure out the bus routes around my flat and figured out just where I could get to without finding my way to one of my two nearest tube stations (Hampstead and Belsize Park). Given each house on my street looks pretty much the same, I've also been happy to not wander into the wrong flat at any point – mostly thanks to our blue door (notice the unhelpful lack of number):
Tuesday saw me head out to the Barbican's monthly movie quiz for their Oscar special.
Hopping gamely on the 46, the bus dropped me practically on the Barbican's front step as the route ends just a few minutes walk away at St. Bartholomew's Hospital. For those familiar with the BBC's excellent Sherlock series, you'll remember Bart's as the place where Molly Hooper works, where Sherlock and John first met, and most importantly, where Moriarty and Sherlock faced off on the roof before John watched Sherlock plunge to his "death." So as a loyal Sherlockian, I have to make sure I take a moment to pay my "respects" each time I'm in the area.
As always, the windows and red phone booth are covered in messages from local fans and visitors from across the world. My first few visits saw messages filling in the gaps after the Reichenbach Fall, playing along within the intricate world created by the team of Mark Gatiss and Steven Moffat – "Moriarty is real!" and "I Believe in Sherlock Holmes" – but now the messages are largely words of hope that the series will boldly go where no Sherlock adaptation has gone before: turning the crime-solving duo from platonic BFFs to television's greatest romance. Given Moffat has often mentioned that he sees the show as an adaptation of the greatest love story of all time, and given Gatiss' love of Billy Wilder's The Private Life of Sherlock Holmes which sees the famous consulting detective pining for our dear army doctor, perhaps this could be the show/time to take that step. Some see the potential move as sacrilege, but given Arthur Conan Doyle was far from precious about his creation (he once wrote to playwright/actor William Gillette that he "may marry him, murder him, or do anything [he likes] to him"), I say why the hell not? The current big-screen adaptations with Robert Downey Jr. and Jude Law seem to have bypassed the courtship stage entirely, moving the Baker Street duo straight to the old married couple stage (notwithstanding Watson's marriage), so it's not entirely new ground to tread on.
The scribblings and cries of support for Johnlock (the pairings online couple name, ala Brangelina) coat the windows along the entire ground floor and phone box, so much so that when they filmed Series Three here in 2013, the production company had to wash down all the windows and remove all posters and notes nearby.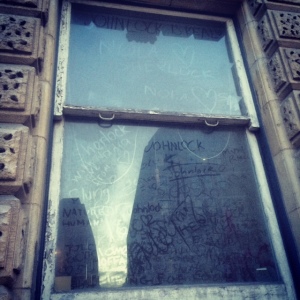 After my respects had been paid, I strolled past Henry VIII (the only statue of him in London), then by the spot of William Wallace's execution, then by St. Bartholomew-the-Great (as seen in Four Weddings and a Funeral as the location of Charles' almost wedding to Duckface) to take my seat at the quiz.
With the trust @mintychip along for the night, our team – Streeping It Real – managed not to embarrass ourselves with a respectable 6th place finish out of a total of 21 teams…with a picture round dedicated to the Queen of All Things, our namesake Miss Meryl:
Considering we were only a team of two and all others were made up of 4 or more enthusiasts, we were pretty pleased! I was additionally pleased I didn't embarrass myself by stealing any of the Oscar nominee standees as free decor for my new room: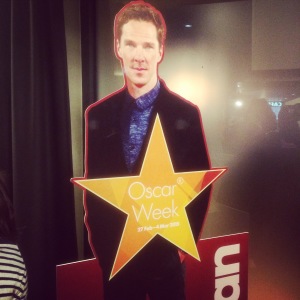 I took the Tube back home and tried the walk from Hampstead Tube Station for the first of what I'm sure will be many times. Positively gorgeous and ALL downhill. Doesn't get any better than that.
Come Thursday it was time for my first job interview on this side of the pond. I managed to find my way from Hampstead to Shoreditch in the pouring rain. Even managed to be a good samaritan and help  a woman pick up all her shopping after she dropped it all in a massive puddle. It's possible the good karma followed me into the interview, as it went really well. But not that well, given I heard back the next day that I'd not made the cut…though they said they'd been very impressed with me, so I'm guessing the whole "needs a work visa" thing won out in the end. Oh well, not meant to be! But with the first hurdle out of the way, and with positive feedback to boot, it could've been much worse!
Giving myself a day to mourn, as it were, I was back on the London horse on Saturday, taking the 24 bus from the flat all the way to Cambridge Circus. A walk down Shaftesbury Avenue/Chinatown later, and I was past Piccadilly Circus and at the Mecca of Tea Drinkers, known as Fortnum and Mason. I bought as much tea as I could carry, had a wander around New Bond Street, the Burlington Arcade and lower Regent Street, before hoping on the tube and heading back home with my loose-leaf booty.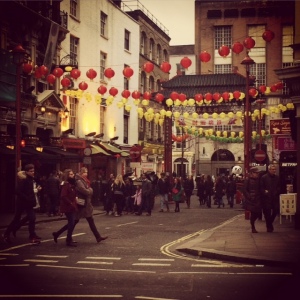 The rain held off, naturally, until I emerged at Hampstead station. So instead of the normal walk back, I decided to treat myself to a bus ride…but as I waited dutifully at the stop on Hampstead High Street I spotted a local landmark – La Creperie de Hampstead. My local informants had flagged it to me as a must-eat-at spot, so I curtailed my bus-waiting activites to hop across the street for a Nutella special. There was a line at the 33-year-old establishment (apparently there always is) so by the time I reached the front, I'd missed my bus and the rain was now making itself known in a big way. Meh…totally worth it.
My first week ended the way ALL weeks in London should end…with a 4-hour Sunday roast pub lunch (at The Flask), with sticky toffee pudding for afters, and a walk along the edge of the Heath to take advantage of the first sunny day since I'd arrived.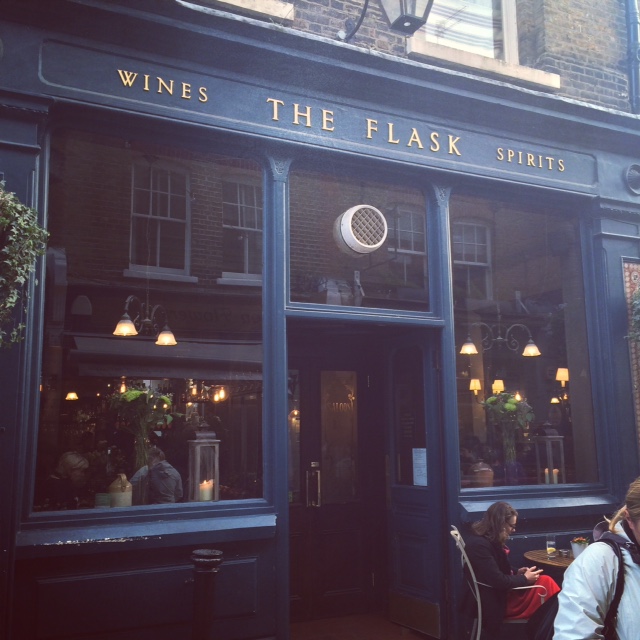 With theatre (The Ruling Class with James McAvoy) and the Women of the World Festival at the Southbank on-tap over the next seven days, it looks like Week Two could be one to remember!