Day Three of the Best Trip Ever ™ dawned bright but chilly. We were not deterred as we made our way to South Kensington for a spot of shopping followed by a bit of history.
The first stop of our Friday fun-day had my mother's eyes alight with joy…but who could blame her, with the joy that is Sophie Conran's flagship store, The Conran Shop. A brief walk from the Tube station, the store was hard to miss with its seasonally-bright display windows. We wandered in wonder but managed to only spend a few pounds on a few Christmas decorations…but it's the kind of store you can toddle about in for hours.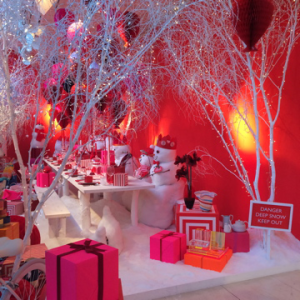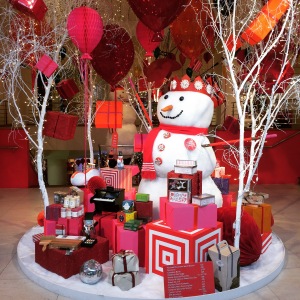 Next we headed back up to Cromwell Road for a visit to the V&A.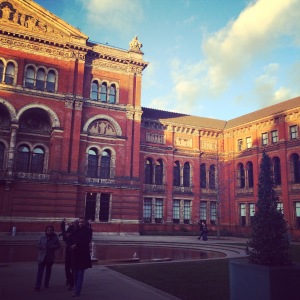 We indulged in a quick bite of lunch at the museum cafe, then bought our tickets for one of their three current exhibits, Wedding Dresses 1775-2015, and headed in. It was a fantastically put together exhibit featuring some fairly iconic or well-known dresses, including Gwen Stefani's Dior gown, Camilla Parker-Bowles' wedding dress and Sarah Chatto's (nee Armstrong-Jones). I fell in love with a 2014 gown from Brit designer Jenny Packham. It was gorgeous: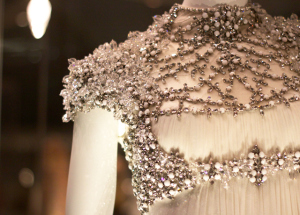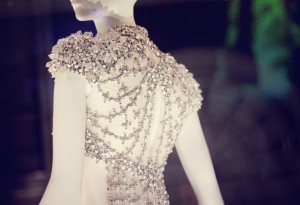 We might head back for the other two exhibits, Horst and Constable, before the end of the trip as they both looked really interesting. And if we do come back, maybe we'll take a turn on the Natural History Museum skating rink.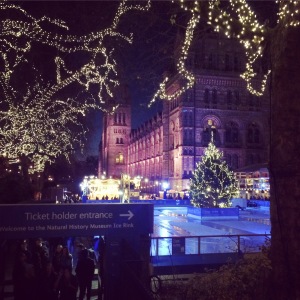 Then it was time to head up to Hyde Park for our return to their Winter Wonderland fair. Just as we arrived at the entrance, I noticed a shape in the shadows on the path, edging the Serpentine. Was it a lost child? NO! It was another Paddington! This one is Marmalade, designed by Hugh Bonneville.
Given it was a Friday night, the place was packed with families enjoying the rides, post-work peeps enjoying the beer and mulled wine and everyone else on the planet. We walked through the whole fair, checking out the Christmas lights, merry-go-rounds, food stalls and more. If you're ever in London at Christmas, it's a fun place to spend some time.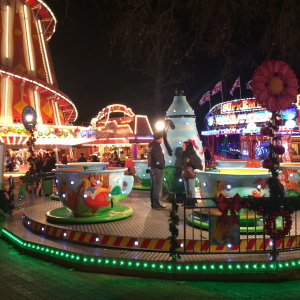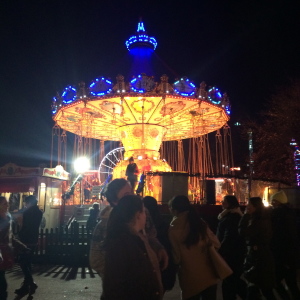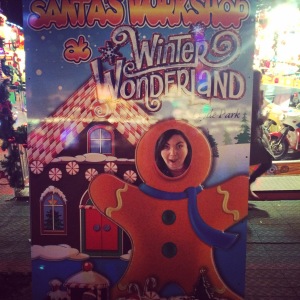 How does one follow up such holiday chaos? With a visit to Harrod's Christmas chaos, naturally. This was my first visit to the legendary department store and I wasn't disappointed…especially by their chocolate shop and sweets counter!
Not to mention the fantastic window displays, including a fashionably gorgeous one by Stella McCartney.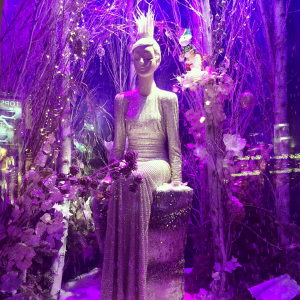 Tired and bedraggled, we made our way back to the flat…but not before finding one more Paddington! This one is in Covent Garden, designed by the voice of Paddington himself…Ben Whishaw.